WE SERVE YOU WITH OUR RHINOPLASTY CENTER!
We successfully conduct Rhinoplasty surgeries at our hospital.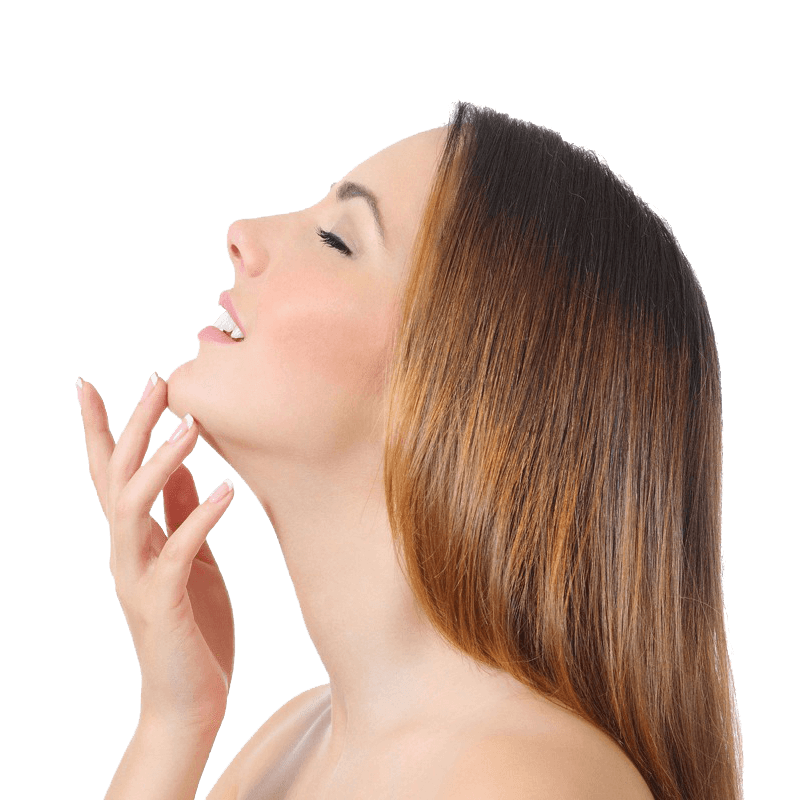 FREQUENTLY ASKED QUESTIONS
M.D. Burak Demirel
Ear Nose Throat
Surgeon Burak Demirel was graduated from Süleyman Demirel University, Faculty of Medicine in 2012. He completed his specialization education at Namık Kemal University, Department of Ear, Nose and Throat between 2013 and 2017. In addition to his successful surgeries, he is particularly known for "Rhinoplasty'' surgery.
Successful Septorhinoplasty surgery
Mr. Waseem, a patient from the United States, approached our hospital's International Patient Unit upon recommendation.
Following the initial talk, he indicated that he had a nasal deformity, breathing difficulties, and snoring when sleeping. Mr. Waseem, whose visit to our hospital had been organized in advance, was greeted at Istanbul Airport and arrived at our facility. M.D. Burak Demirel evaluated him upon his arrival at our hospital, and a Computerized Tomography was required. A significant septum deviation was discovered, prompting the recommendation of Septorhinoplasty surgery using the Piezo technique, which reduces pain and edema in the post operative period.
The patient agreed to the surgery and with the assistance of our staff performed the pre-operation preparations. Our patient, who had a successful operation, was discharged after a two-night hospitalization and a follow-up appointment. Mr. Waseem returned to the control examination after a week, and he received his new look, which he had been waiting with great enthusiasm. He was satisfied with the aesthetic result and was able to breathe freely.
Mr. Waseem congratulated the surgeon Burak Demirel for the successful operation and thanked the International Patient Unit team and all the service nurses who made him feel at home. He recommends our hospital to all acquaintances for the quality of Çorlu Vatan Hospital services and our professional and smiling staff.
As Çorlu Vatan Hospital, we wish Mr. Waseem a long and healthy life.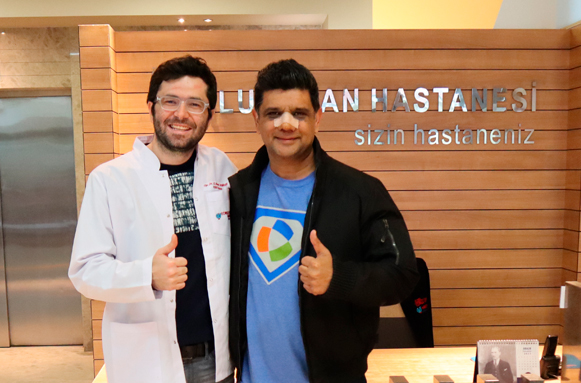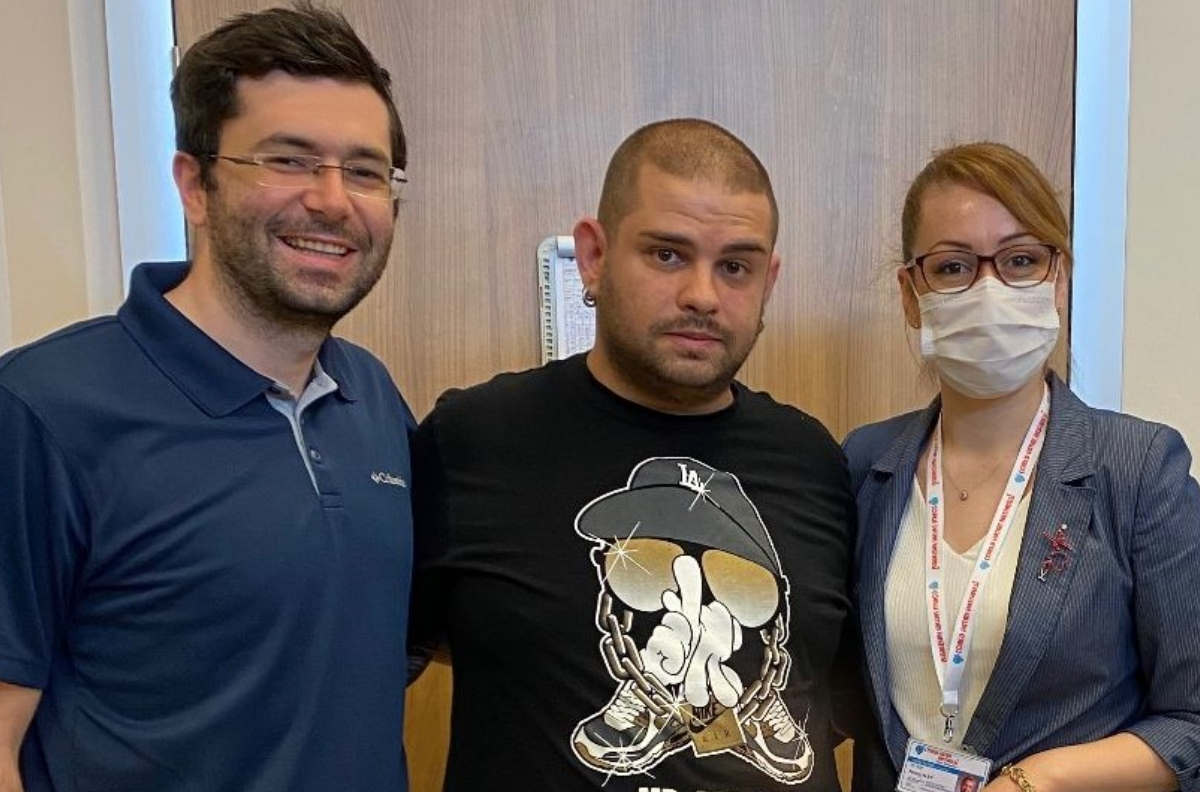 Grigor, who had been complaining about being unable to breathe, has recovered his health!
Grigor Kirilov Nikolov from Bulgaria had been suffering from nasal congestion and the inability to breathe through his nose for years when he applied to our International Patient Unit. The patient was invited to our hospital for a detailed medical examination following the preliminary conversation.
Severe Septum Deviation was discovered after examinations performed on Mr. Grigor, whose visit to our hospital had been planned in advance. M.D. Burak Demirel, one of our Rhinoplasty Center's physicians, stated that the Septoplasty operation would solve his problems. Our patient, who chose to have surgery, underwent preoperative examination and all tests.
We discharged our patient after 1 hour of Septoplasty Surgery and one night of hospitalization with no pain or bruising.
As the 40th anniversary of Çorlu Vatan Hospital, we wish Mr. Grigor a long and healthy life.
Functionality in Ultrasonic Rhinoplasty
Mehmet Avcı (36), who applied to our hospital with the complaints of nose deformation and breathing difficulties, was examined by our Ear, Nose and Threat and Head/Neck Surgeon Burak Demirel. Through the Ultrasonic Rhinoplasty he has obtained functionality and aesthetical appearance.
The nasal packing of our patient was removed in the follow-up examination conducted on the 10th day following the Ultrasonic Rhinoplasty surgery, and tape was applied to him. As Private Çorlu Vatan Hospital on our 40th anniversary, we wish a healthy life to Mr. Mehmet, who expressed his satisfaction with the conducted surgery to our doctor and his team.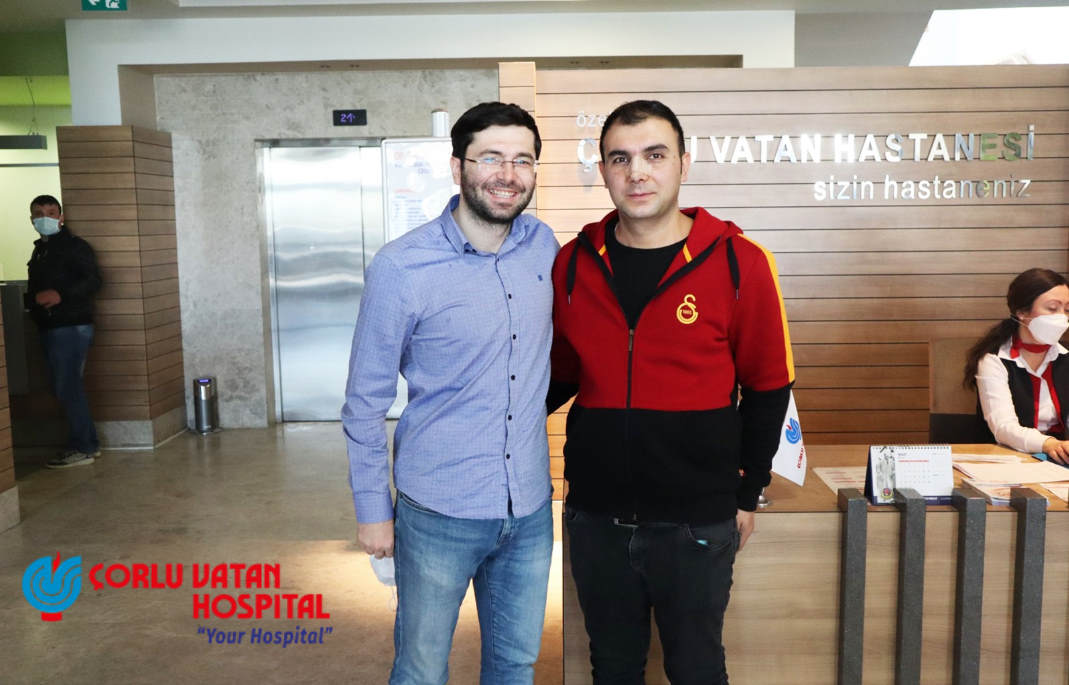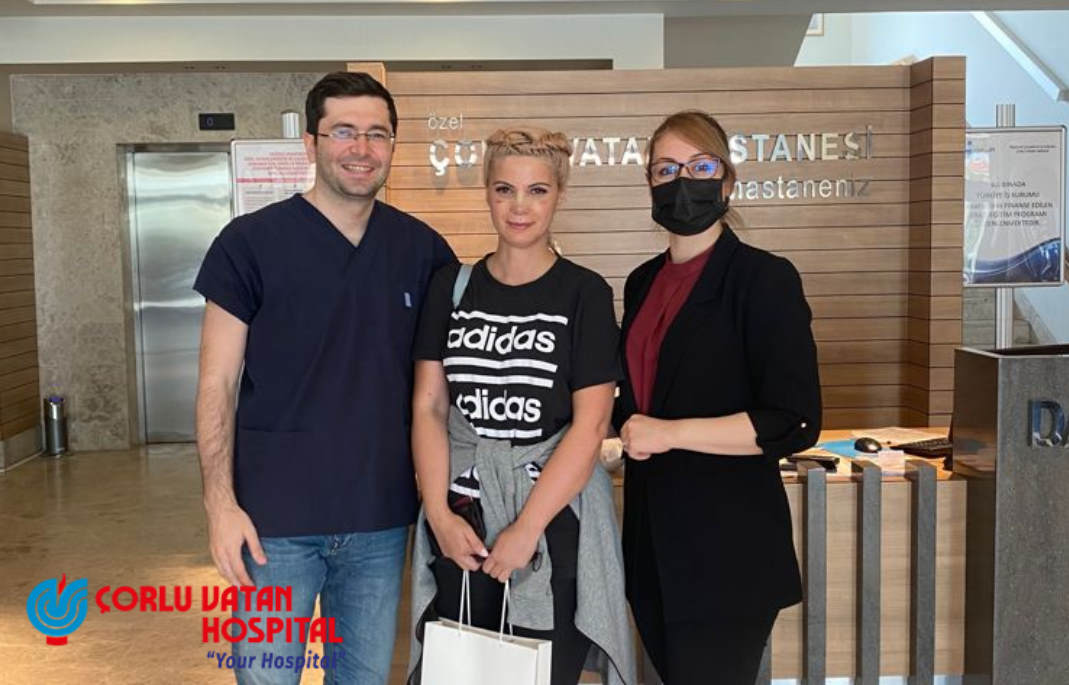 Happy Patient, Happy Doctor
Surgeon MD Burak Demirel, an Ear Nose Throat and Head and Neck Surgery Branch Specialist at our Hospital indicated that the nose breathing-in problems, septum deviation, polyp and deformations could be resolved in the same session by using minimal invasive methods. Eliminating both aesthetic and functionality concerns with a single surgery enables us to obtain good results in our patients and get positive feedbacks from them.
We conducted general checks in the first week following the Rhinoplasty procedure that was carried out by using Piezo (ultrasonic cutting) method for our patient named Rayna Yordanova Todorova, who applied to our hospital from Burgas City with breathing-in and aesthetic problems, and then we bid farewell to our patient for the summer holiday.
Ms. Rayna, who declared her satisfaction with the procedure conducted, thanked our doctor Mr. Burak and our Bulgarian translator Ms. Sevinç for their interest and attention.
Our patient, Lidiya Mitkova Kyurcheva, had breathing problems due to the deformity of her nose, she was complaining about her prominent ears. At the end of March, Ultrasound Rhinoplasty and Otoplasty were performed in a single operation. She came to visit us today for the control.
Our patient expressed her satisfaction with the operation and would recommend our hospital and Dr. Burak Demirel to her friends and acquaintances.
We, the family of Çorlu Vatan Hospital, wish Ms. Lidiya a healthy life.